We ship The Pie's Pizza anywhere in the USA!
1-877-MAIL PIZZA
(877-624-5749)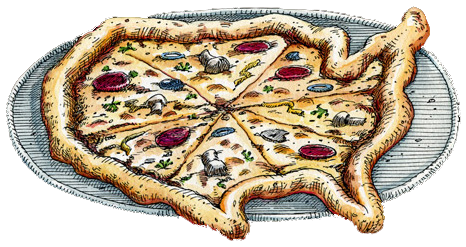 Sending someone flowers is so cliché! Try something original next time and send them a slice of home... a taste of Salt Lake City! An award winning Pie Pizza makes a unique and very tasty gift and can also provide a temporary cure for homesick friends and family who grew up at The Pie. You asked for it and you got it! The Pie now offers nationwide delivery!
Our Pie pizzas are hand-made from scratch, flash frozen and sealed for freshness the same day they are ordered. Each pie is made to order and packed with dry ice in an insulated cooler and shipped via UPS Next Day. Pie Pizzas can be delivered to any home or office and come complete with baking instructions and your personal message right on the box. Each Pie Pizza is 14" and serves approximately 4-6 adults.
Ordering is quick and easy!
Call toll free 1-877-MAIL PIZZA (877-624-5749)
Order three 14" pies of your choice from our friendly Pie Representative.
Give us the name, shipping info. and your personal gift message.
Pay by credit card (Visa, MC, Amex, Discover) and we'll do the rest!
Choose Your Pie
Unfortunately not all pizza combinations are able to be shipped, please call 1-877-MAIL PIZZA (877-624-5749) for shipping menu item availability.
The Pie Pizzeria's Shipping Terms and Conditions
Shipping charges are separate. A $9 handling fee for the insulated shipping box and dry ice will be added to each order, plus the actual shipping charges. We do not set shipping prices, nor do we mark them up! We ship 3 pies per container in an effort to get the best value for your money.
Pies are packed in an insulated container with dry ice for shipping anywhere in the USA. Your pizza will be made fresh to order, frozen overnight, and shipped the next day. Please view the delivery schedule below:
All orders placed Monday will be delivered on Wednesday.
All orders placed Tuesday will be delivered on Thursday.
All orders placed Wednesday will be delivered on Friday.
All orders placed Thursday will be delivered on Tuesday.
All orders placed Friday, Saturday, and Sunday will be delivered on Tuesday.
In addition, you may select the delivery day to be later than the default day by specifying the desired day on the order. All orders will be processed out of Salt Lake City.
You have questions, we have answers